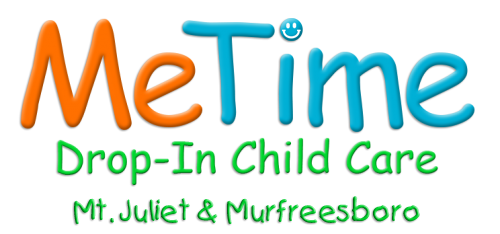 MeTime accepts children ages 6 weeks through 12 years old.
Rates
Our Rates Are Family Friendly!
Registration Per Family: $20
Drop in Rates:
Infants: $13/hour
Ages 2-12 years old: $11/hour
Sibling Rate: $5/hour
Individualized Care: $15/hour
Hours
MeTime is open 7 days a week!
Monday – Thursday:
8AM – 10PM
Friday – Saturday:
8AM – Midnight
Sunday:
Noon – 9PM
Menu
Meals are $5 each and include an entrée and side. All drinks and additional snacks are $1. We offer breakfast, lunch and dinner.
Breakfast Options:
Sausage Biscuits
Pancakes on a Stick
Mini Muffins
Yogurt
Lunch and Dinner Choices:
Pizza Meals (pepperoni or cheese)
Chicken Meal
MacNCheese Meal
We have countless side options to choose from.
Call Ahead
You are encouraged to call in advance for children needing more individualized care and/or infants under 12 months old.
What is MeTime?
Mt. Juliet & Murfreesboro Drop-in Child Care
MeTime is a LICENSED Drop-In Child Care Facility with 2 locations in Middle Tennessee! Mt. Juliet opened in 2017 and Murfreesboro opened in December 2020. When you are a part of the MeTime Family you can use both locations at any time at no extra charge! We are a small business and the owner has been working with children since 2001. All of our teachers/caregivers exceed State Regulations and have undergone extensive background/fingerprint clearances with both the State and Nationwide. We are all CPR/FA certified as well and undergo monthly trainings to keep us up to date on best practices in all aspects of childcare.
MeTime is licensed to care for children ages 6 weeks through 12 years old. Reservations are not required, however if you have an infant they are are strongly suggested since we only accept a few infants at a time to ensure the best quality care for each child. MeTime offers snack and hot meal options. We are also licensed by the Health Department and can heat up or chill any food brought in. We ask that all food brought in be NUT FREE.
MeTime believes strongly that that best way to learn is through play and we engage each child on their level no matter their age. We offer arts and crafts, STEAM projects, fun games through directed play and encourage relationships and working through life experiences during free play. Every opportunity is a chance to learn!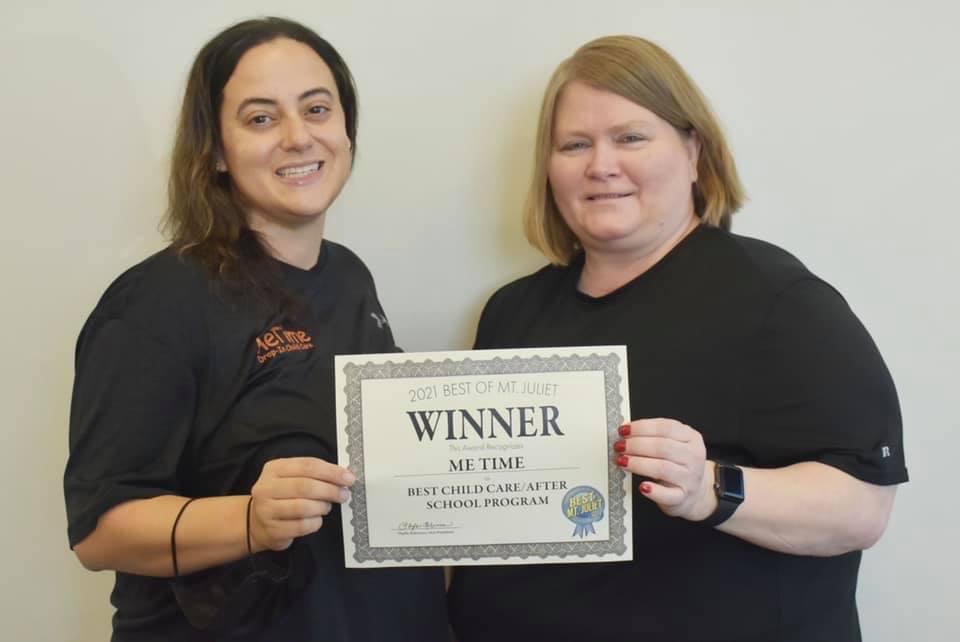 We were so excited to be named Winner for the 2021 Best of Mt. Juliet – Best Child Care/After School Program!

MeTime is a LICENSED Drop-In Child Care Facility with 2 locations in Middle Tennessee!